CD/Shop
for ordering a CD please write me an email info@doublejoe.de
Will Jasper Quartet-jammin' at the stable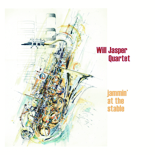 Joe invited the dutch saxplayer Will Jasper to his studio at Berne. Together with bassplayer Frans van Geest and drummer Gijs Dijkhuizen, two of the best dutch musicians, they recorded five of their favourite standards and three original compositions. Straight ahead bebop and emotional ballads

listen to it on Apple Itunes:
Joe Dinkelbach Organ Trio- Moments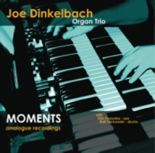 This completely analogue produced album was recorded on a REVOX PR99 2-track reel to reel recorder, using an analogue Yamaha mixing desk, a solid plate reverb by DS audoservice, one ribbon microfone for drums, AKG C414 B-ULS for sax and Neumann KM184 for the organ. No digital cuts, effects or mastering, just pure faithful jazz. Joe Dinkelbach- Hammond B3; Dirk Piezunka- sax; Ralf Jackowski- drums.
Track list:
Side A: 1.Moments 2.When It's Sleepy Time Down South 3.Nobody Else But Me
Side B: 4.Organ Movers Blues 5.Smoke 6.Erik's Waltz

price: Euro 22,- plus shipping

Live At Wilhelm13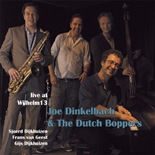 together with Sjourd Dijkhuizen-sax, Frans van Geest-bass and Gijs Dijkhuizen-drums. Live recorded in the german Jazzclub Wilhelm13 at Oldenburg

Hooked On Hammond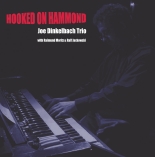 The debut album of Joe on his Hammond organ. Originals as Mr. Ross, Big Smile, Last Minute and Standards like This Here from Bobby Timmons or Groove Merchant from Jerome Richardson.


with Raimund Moritz, altsax and Ralf Jackowski, drums.
Old Tradition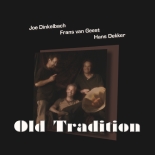 Joe Dinkelbach, bassplayer Frans van Geest and drummer Hans Dekker know each other from the studies at Hilversum/NL. They played together for years, always having lots of fun. Joe composed some tunes and recorded them with these two guys, the album is dedicated to his teacher Henk Elkerbout

price 12,- Euro ex shipping

My Love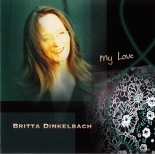 The debutalbum of singer Britta Dinkelbach
Britta Dinkelbach voc
Joe Dinkelbach p
Uli Piontek tp
Paulo Pereira sax
Gerold Donker b
Christian Schönefeld dr
price 12,- Euro ex shipping

Red Pepper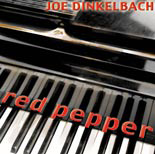 This album presents some fusion tunes written by Joe. Britta Dinkelbach voc, Stephan Abel sax, Ulle Rode git, Marc Ebermann b and Ralf Jackowski dr

price 12,- Euro ex shipping

Lowland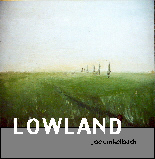 together with saxplayer Paulo Pereira, bassist Marc Ebermann and drummer Ralf Jackowski, Joe recorded his first album with a mixture SmoothJazz, Fusion and some electronic songs.Special guest: Ulle Rode-guitar

price 12,- Euro ex shipping

Easy Does It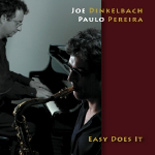 a nice little duo project, standards and originals of both musicians
Joe Dinkelbach - p
Paulo Pereira - ts